Adios #Hooktober and #texaschainstitchmassacre
We have officially closed out the hands-down-best month of the year – #hooktober – and even somehow managed to survive our instagram challenge #texaschainstitchmassacre with our limbs and brains intact. Despite how excited we were to host this event and take a whack at responding to the prompts, it was thoroughly exhausting. It also pushed us to work fast, think creatively, and make some of our favorite amigurumis to date, so we're calling it a success. On top of that, we had the UNPARALLELED joy of seeing your interpretations of our goofy prompts. We couldn't be more excited and appreciative!
When Goat and I started planning the #texaschainstitchmassacre the idea was simple: start a tradition. We knew it was ambitious and that it would likely take some time to catch on, especially with so many well-established holiday themed challenges and CALs. We also knew it would push us to our limits and that some days we'd definitely be phoning it in. However, sometimes pushing yourself pays off, and we really think it did this year. So, if you haven't been following this journey on insta, we will take you on a guided tour through the epic month of #hooktober.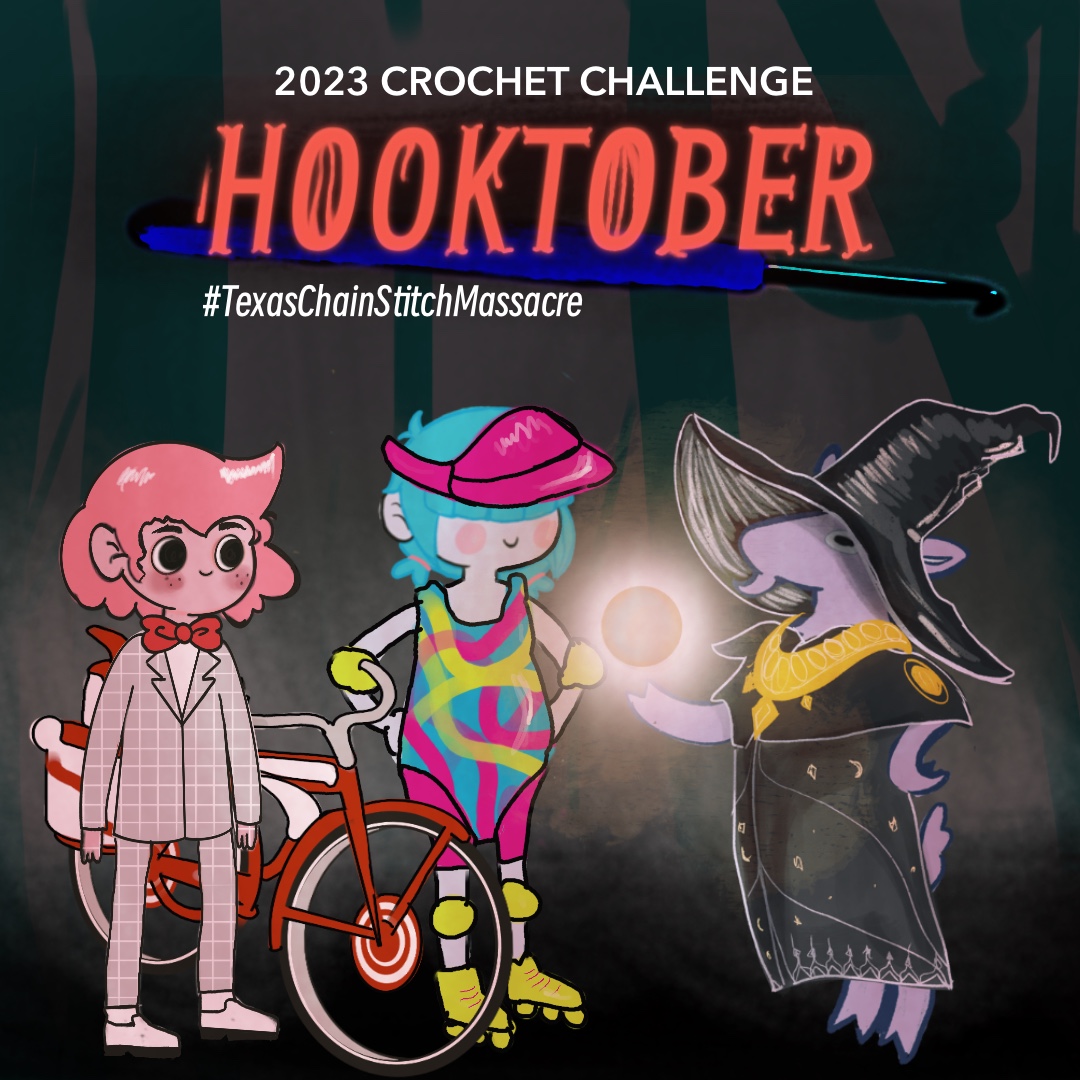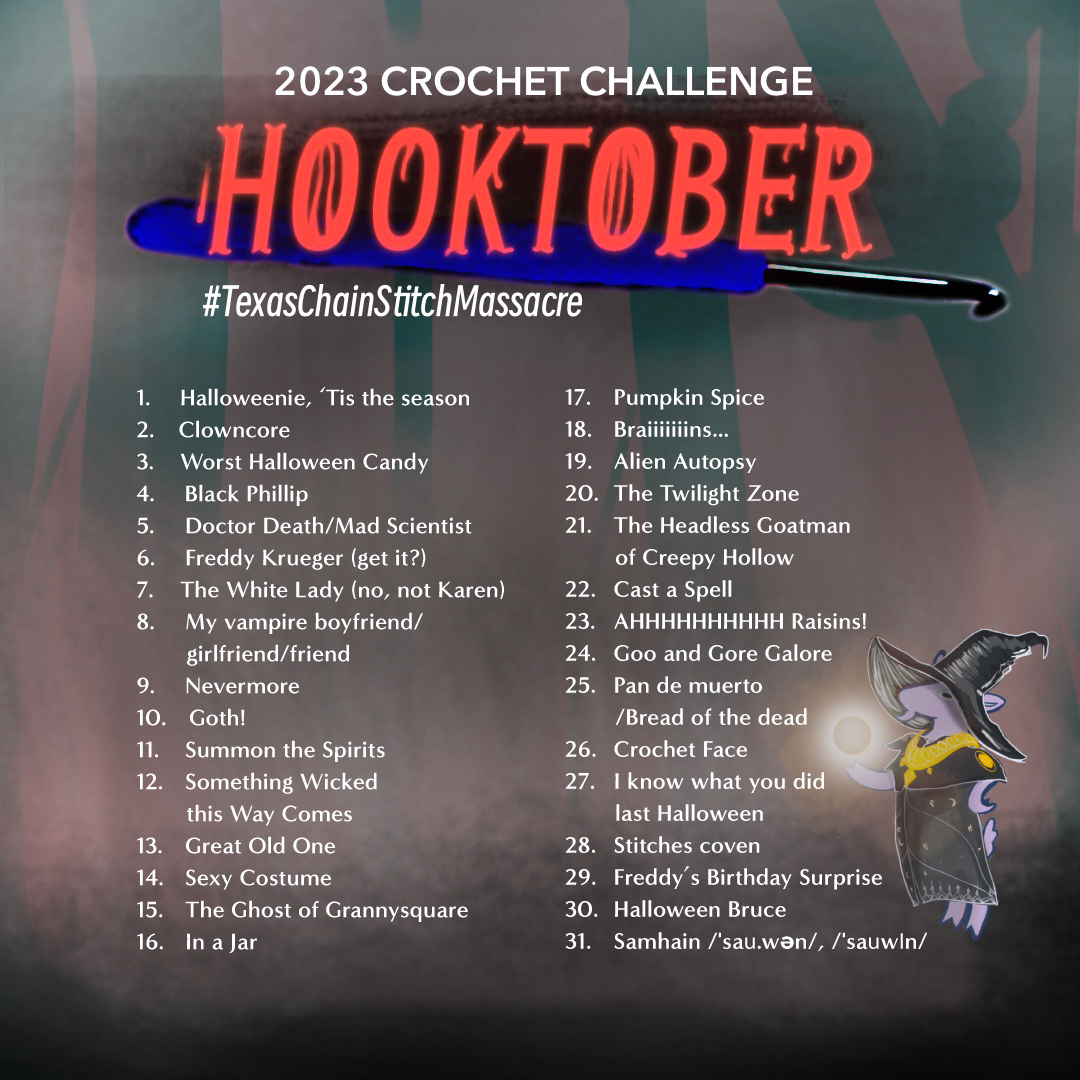 Every day of #TexasChainStitchMassacre
#TexasChainStitchMassacre Day 1: Halloweenie
Possibly our finest work of the year! Halloweenie was inspired by our prompt brainstorming sessions in which both of us kept repeating the phrase "What else is Halloween-y?" This one got a lot of love, so we decided to treat y'all to the pattern for free. So please make one and tag us in your posts!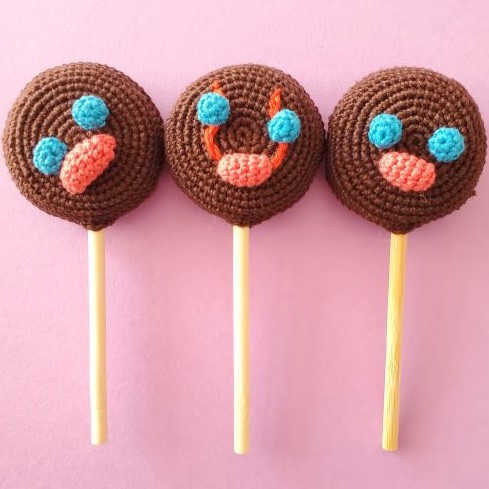 #TexasChainStitchMassacre Day 2: Clowncore
Paleta Payaso (which means clown lollipop) is a popular Mexican treat, known for having terrible product quality control. It always tastes great but the face on your paleta is generally a total mess. For this pattern we decided to "Pennywise" a paleta to make it a bit creepier. Paleta Payaso is also a free pattern!
#TexasChainStitchMassacre Day 3: Worst Halloween Candy
This ended up being a very divisive topic🤣🤣🤣 We also learned the Circus Peanut has a small but very loyal fanbase. Who knew?!? For us, the big three were Circus Peanuts, Tootsie Rolls, and Candy Corn. 
#TexasChainStitchMassacre Day 4: Black Phillip
For obvious reasons we couldn't pass up a chance to make Black Phillip, the devil goat from The VVitch. Fortunately or unfortunately our version turned out super cute. I guess cuteness can be a form of temptation, too???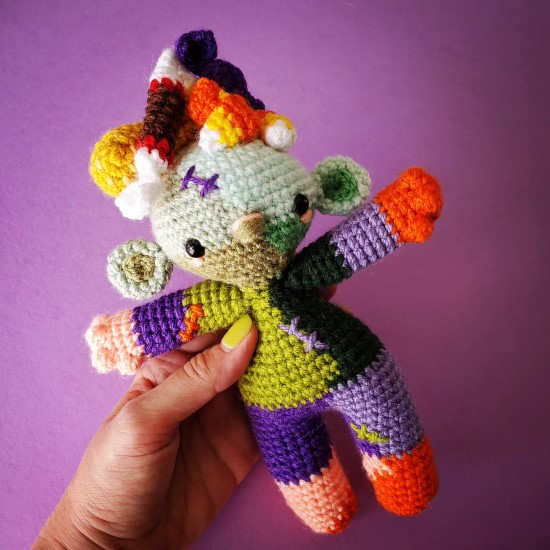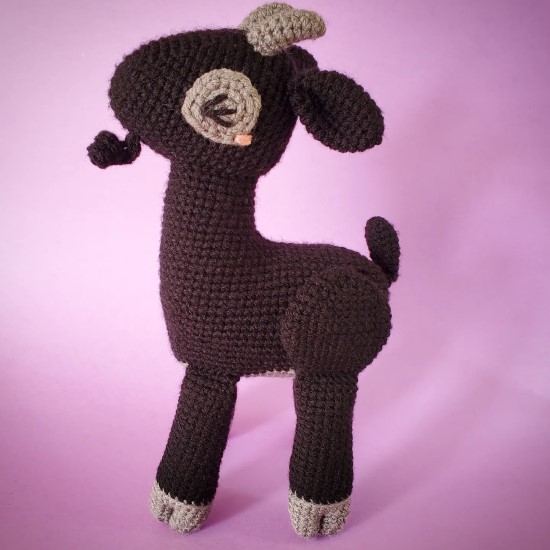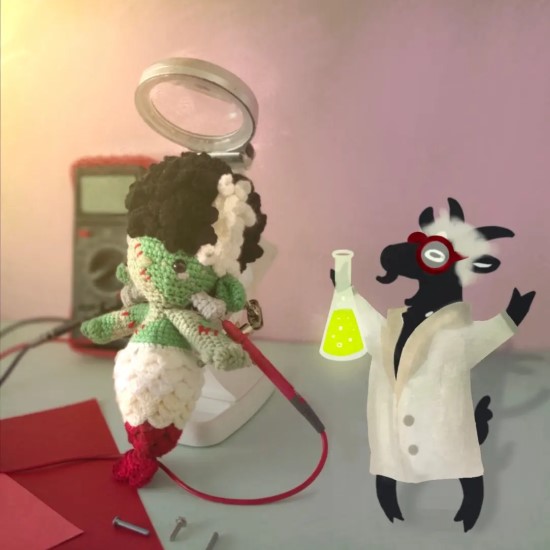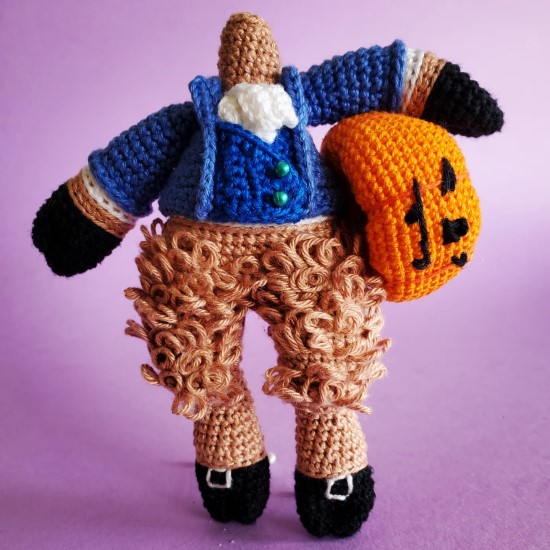 #TexasChainStitchMassacre Day 5: Mad Scientist/Dr. Death
This is a pic from last year's Halloween pattern special Frankenbride, which is still available for purchase in our shop. This year Freddy Goat is making a cameo as the ingenius but woefully irresponsible Dr. Frankenstein.
#TexasChainStitchMassacre Day 6: The Headless Goatman of Creepy Hollow
This was an irresistable make! As soon as we came up with the prompt I had a vision of a little furry-legged Freddy with a jack o'lantern head under its arm. We are REAL proud of this one🤪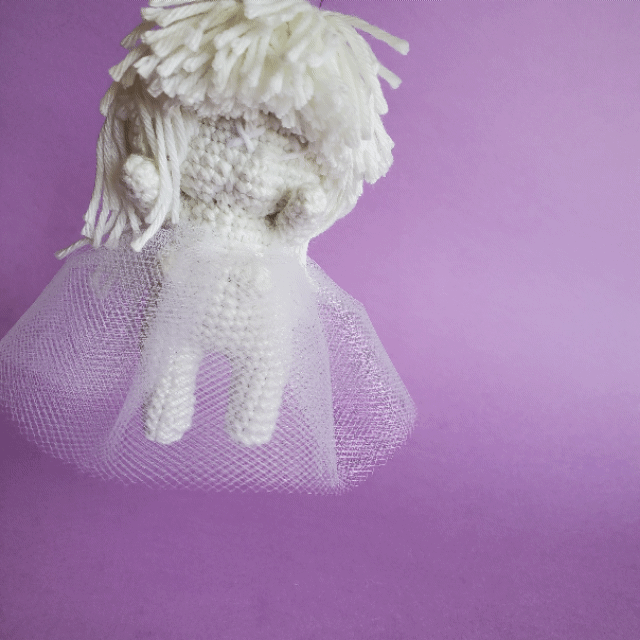 #TexasChainStitchMassacre Day 7: The White Lady
We love this phantasmal archetype and couldn't resist using glow-in-the-dark yarn to make this apparition. Fun fact: Goat's grandmother had a first person encounter with a lady in white!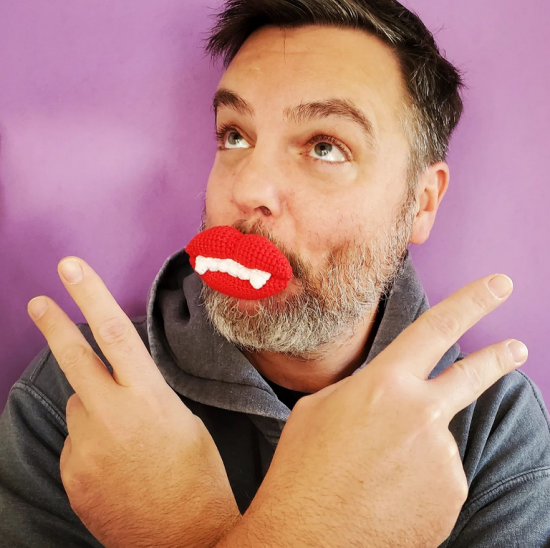 #TexasChainStitchMassacre Day 8: My Vampire boyfriend/girlfriend/friendfriend
This is yet another homage to the silly halloween doodads of our youth. We were never quite sure if we were meant to eat the wax lips or just wear them. Either way, they were kinda gross but a lot of fun!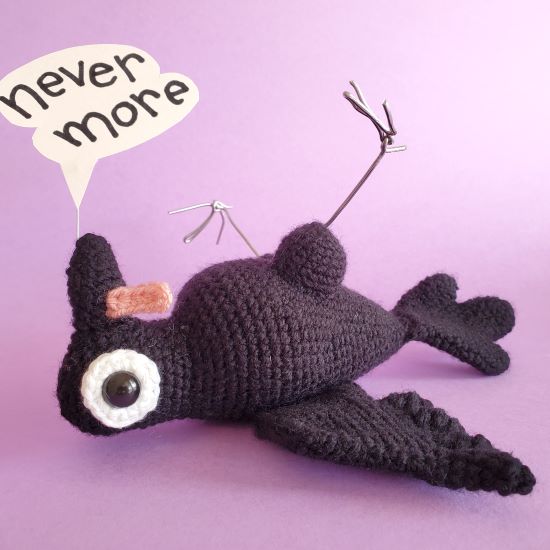 #TexasChainStitchMassacre Day 9: Nevermore
This raven was a slog to make. We were trying to make our pattern, but honestly, so many talented designers have made adorable raven patterns recently and we should have just used one of those! Will we be trying to make another raven in the future? NEVERMORE!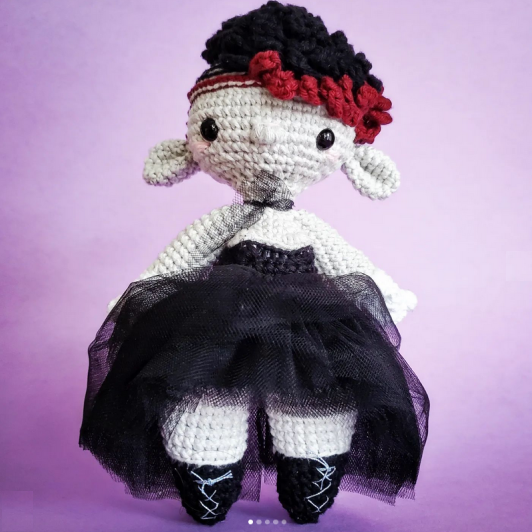 #TexasChainStitchMassacre Day 10: Goth!
Although both Goat and I are addicted to bright color, there is a special spot in our hearts for goth aesthetics, especially the black lacy version. This is based on our Selkie pattern which will be coming out soon, so keep your eyes peeled!
#TexasChainStitchMassacre Day 11: Summon the Spirits
This spirit board (Ouija board) themed tapestry was just too fun an idea not to take a crack at. It is larger than we intended, but once it is finished it will be so cool to have a wall hanging sized way to summon the spirits of those gone before us. If we get it refined we might make this a pattern for next year!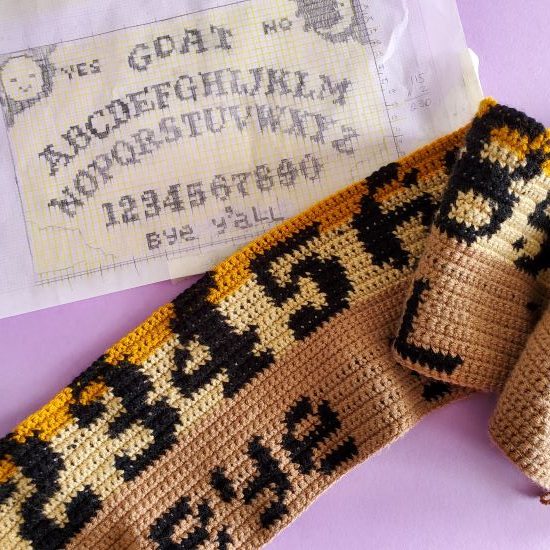 #TexasChainStitchMassacre Day 12: Something Wicked This Way Comes
I don't know if these witch fingers are REALLY wicked, but they are a lot of fun and one of our most popular free patterns. We encourage you to make yourself a set for any holiday.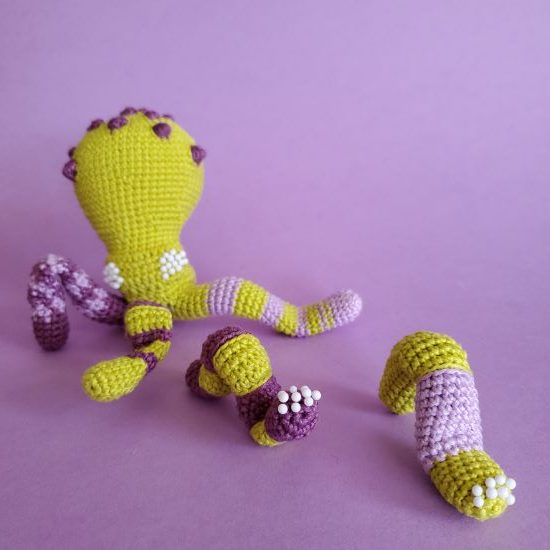 #TexasChainStitchMassacre Day 13: Great Old One
Great Old Ones are god-like beings from the H.P. Lovecraft cosmology. (You have probably heard of Cthulhu, from whom many of these weirdies spawned). There is a whole wiki dedicated to documenting what is known of these monsters and you should TOTALLY fall down that rabbit hole if you are at all interested in the horrifying and awful.
This pretty lady is named Ayi'ig and I was delighted to learn she is apparently my fellow Texan!
#TexasChainStitchMassacre Day 14: Sexy Costume
At only halfway through the challenge we were already getting REALLLLLY tired. My arms were aching and both our brains were scrambled, so Goat made us this hilarious 1980s-esque collage. It is a testemant to our exhaustion (and hysteria) that we laughed for like 5 minutes straight as she was making it.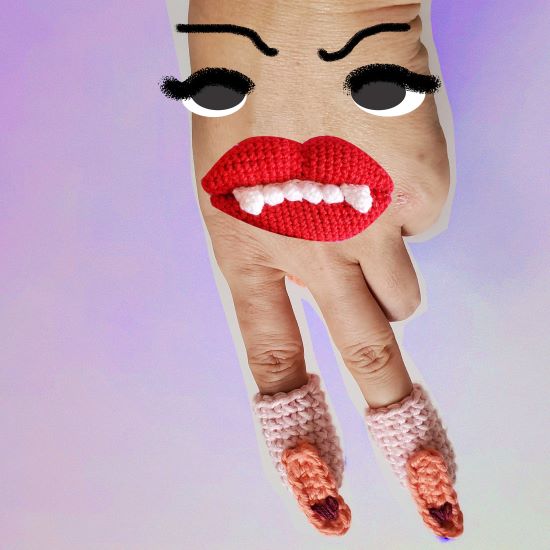 We danced the Mamushka while Nero fiddled, we danced the Mamushka at Waterloo. We danced the Mamushka for Jack the Ripper, and now, Fester Addams, this Mamushka is for you." — Gomez Addams
#TexasChainStitchMassacre Day 15: The Ghost of Grannysquare
This post was surprisingly popular. I loved the idea of making a ME-sized ghost costume made of grannysquares, but it wasn't feasible this. Year. Maybe next year you will see us sporting such a stylish costume. (P.S. Did you recognize this as Goat?!?)
#TexasChainStitchMassacre Day 16: In a Jar
More witch fingers!!! We are ready for any witchy occasion!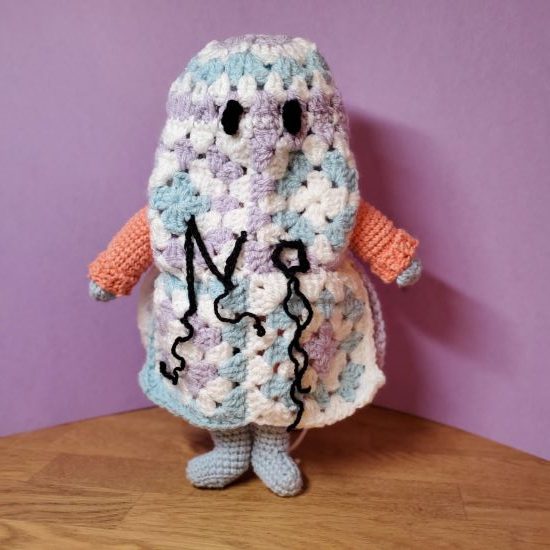 #TexasChainStitchMassacre Day 17: Pumpkin Spice
Thankfully we had this abandoned coffee cup lying around. I really love the goat logo idea, but we never figured out how to make it particularly recognizeable. Maybe we will go back to this pattern some day and hammer out the issues.
#TexasChainStitchMassacre Day 18: Braiiiiiiiins…
We made this ami while taking process pics for our Selkie pattern. She is a total cutie, but it was a bit of a color palette fail. I didn't realize until finishing her hair how much the color looked like brains. 🤣💀 Oh well. At least we found a use for it.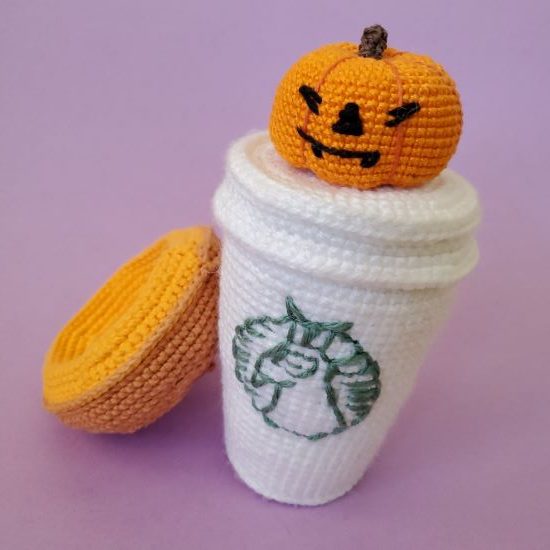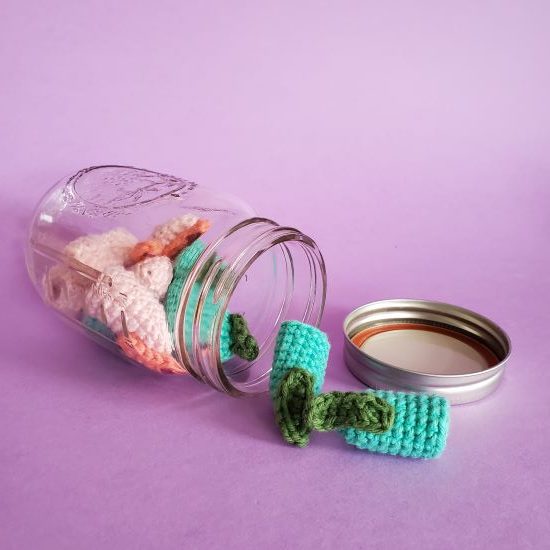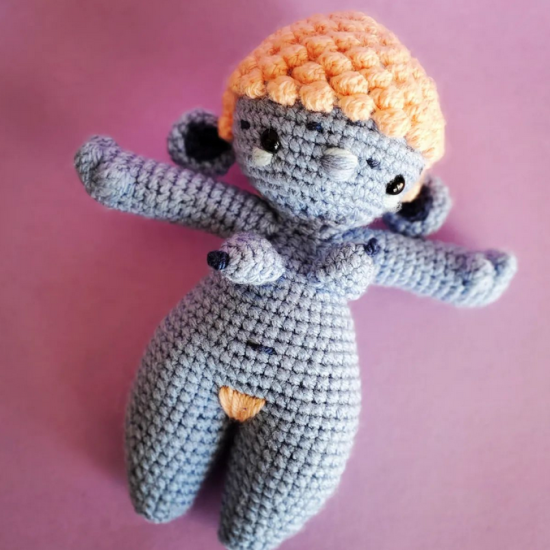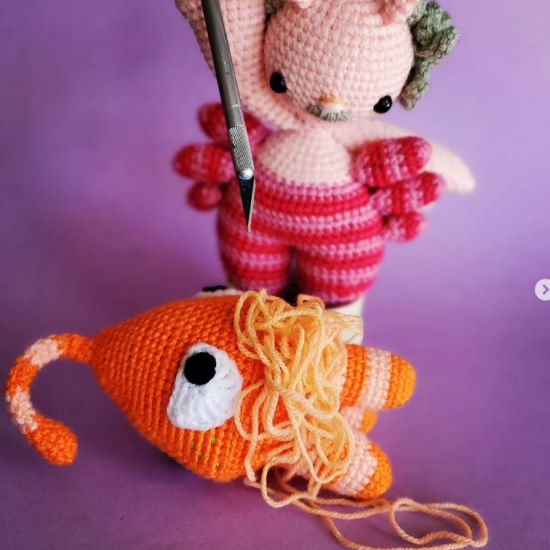 #TexasChainStitchMassacre Day 19: Alien Autopsy
As many of y'all are aware, Freddy Goat is deeply divided over whether or not aliens are cannonically "halloweeny". This post represents our compromise. Goat gets her Halloween aliens and Freddy gets horror movie gore. And that, my friends, is how grown folks settle their disputes🤣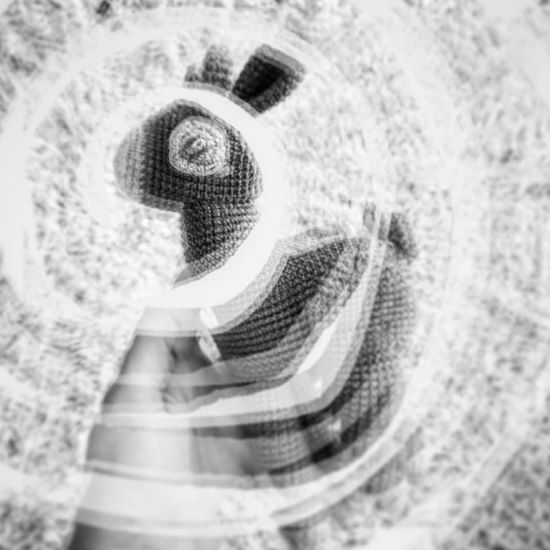 #TexasChainStitchMassacre Day 20: The Twilight Zone
We phoned this one in. Sorry y'all. It was a great prompt and should have gotten a better response but we were TIRED!
The goat pattern in the background will be available in our shops soon!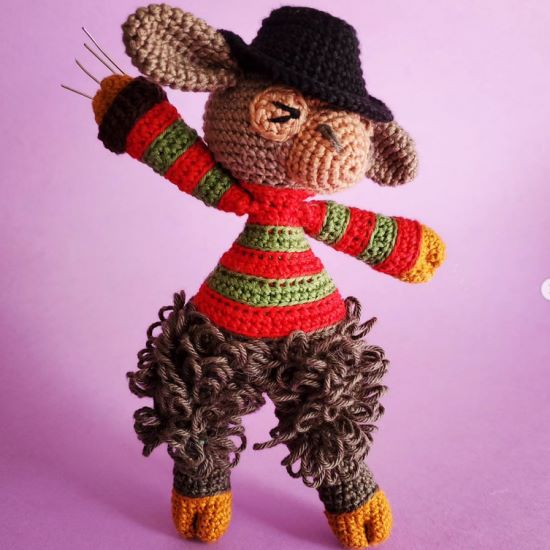 #TexasChainStitchMassacre Day 21: Freddy Kreuger (get it?)
We love love love how our Freddy turned out. It might even beat the Headless Goatman???
#TexasChainStitchMassacre Day 22: Cast a Spell 
This is the only post that features a non-FreddyGoat pattern, but she is SUCH A CUTIE we couldn't resist. Xenia the Friendly Witch is a pattern by Gwilami and Granny's Crochet Hook released as the September Ami-Along for Amigurumi.com. Everything about her is adorable (as you would anticipate coming from these two designers) and we even one some free yarn for personalizing her outfit and expression.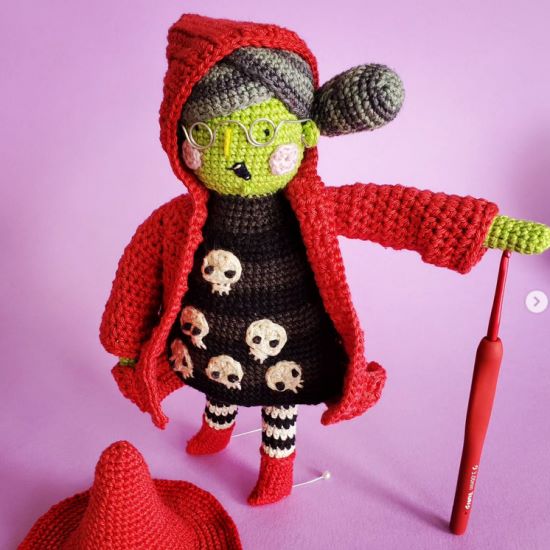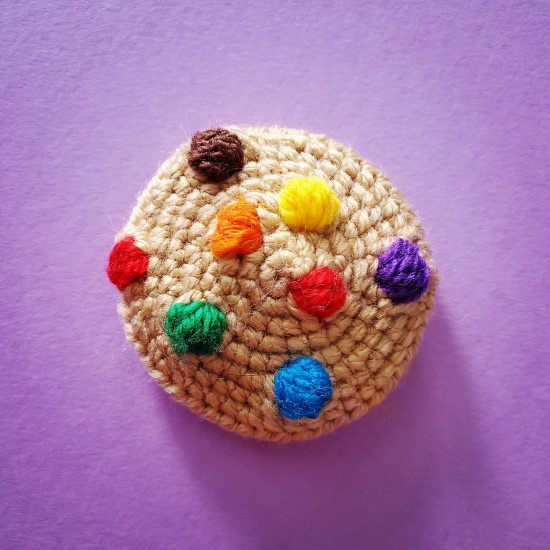 #TexasChainStitchMassacre Day 23: AHHHHHHH Raisins!
Raisins are so awful I couldn't even bring myself to crochet them for this post. Sorry raisin lovers. Despite my raising hate, you can still use our free chocolate chip cookie pattern to make your wretched raisin cookies. I'll try not to hold it against you.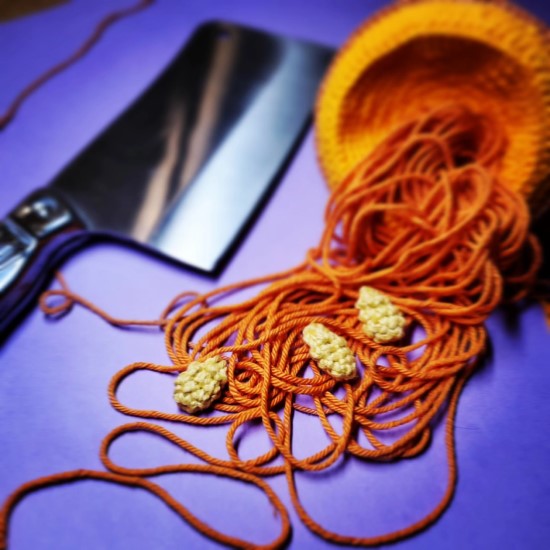 #TexasChainStitchMassacre Day 24: Goo and Gore Galore
This is a repost from last year, but it really looks cool, so we feel justified.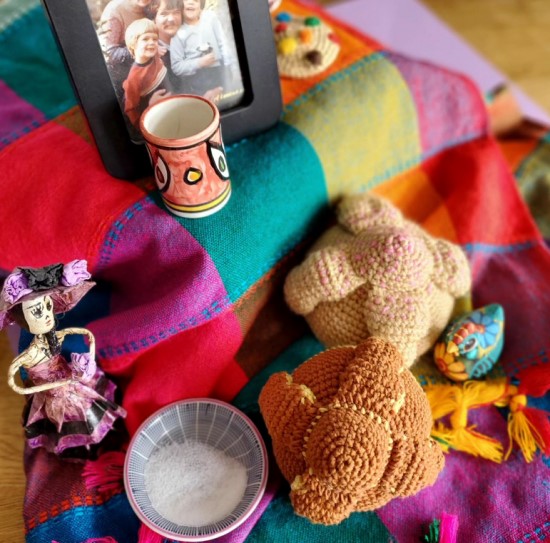 #TexasChainStitchMassacre Day 25: Pan de Muerto (bread of the dead)
We made this pattern to for our Day of the Dead altars last year, and we hope to publish it for you one day.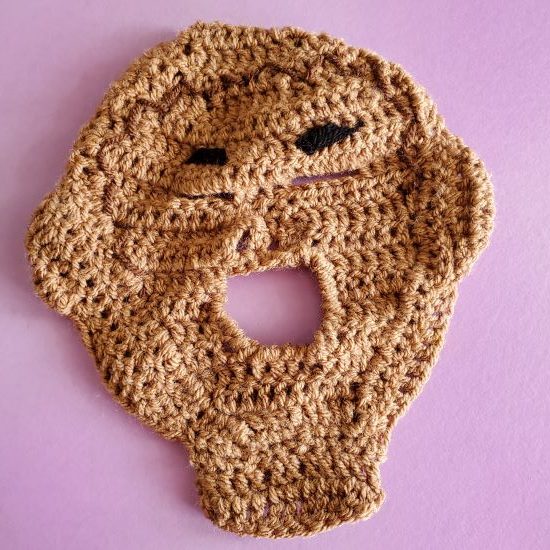 #TexasChainStitchMassacre Day 26: Crochet Face
BLEHHhhHHHHghghg! We wanted to make a crochet mask reminiscent of the mask Leather Face wears in The Texas Chainsaw Massacre. This turned out so gross and creepy so… I guess we kinda nailed it???
#TexasChainStitchMassacre Day 27: I know what you did last Halloween…
This is the 2022 "Best of" Montage.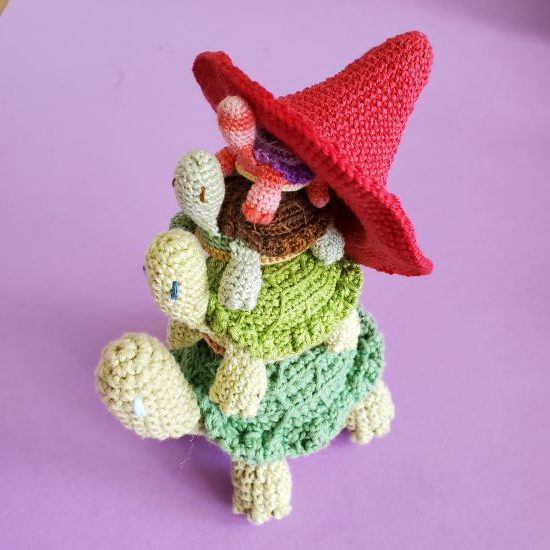 #TexasChainStitchMassacre Day 28: Stiches Coven
We just really enjoyed the idea that this turtle tower was in fact a small coven of friendly witches. They don't use eye of newt or wart of toad in their potions. That's a little too close to home for these fellas.
We also promised to make increasingly small hats for them to wear next year. Please hold us to this promise because it needs to happen.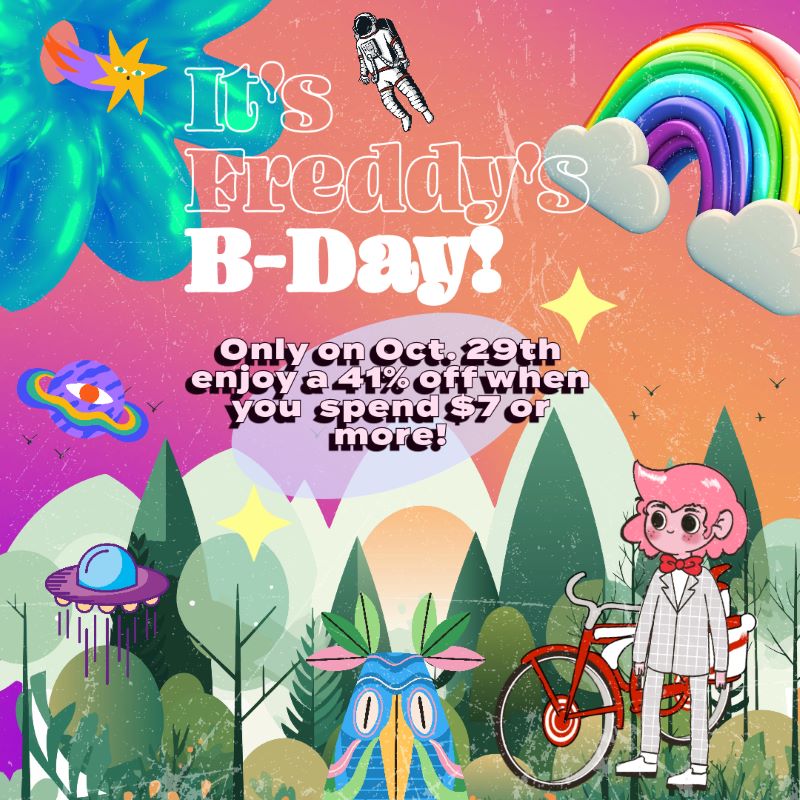 #TexasChainStitchMassacre Day 29: Freddy's Birthday Surprise
We love birthday sales. If you missed this one, the next big bday sale will be June 2024 for Goat's big day. (Also, check out this totally bomb image Goat made for the sale!!!!)
THIS SALE IS OVER!!!! SORRY TO DISAPPOINT!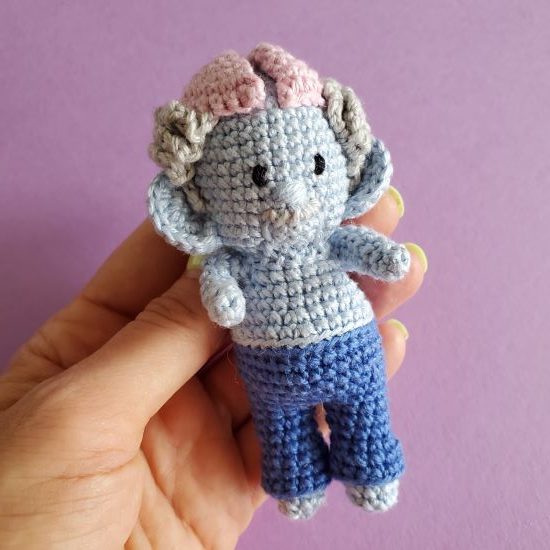 #TexasChainStitchMassacre Day 30: Halloween Bruce
Halloween Bruce is the new face of the season. He is a charming dad-like zombie. He is thinning a little on top (ha!) but his amazing mustache more than makes up for that!
Bruce is inspired by a dad in our own lives that we wanted to honor with a silly little amigurumi. Do you have a Bruce you'd like to make a crochet homage to?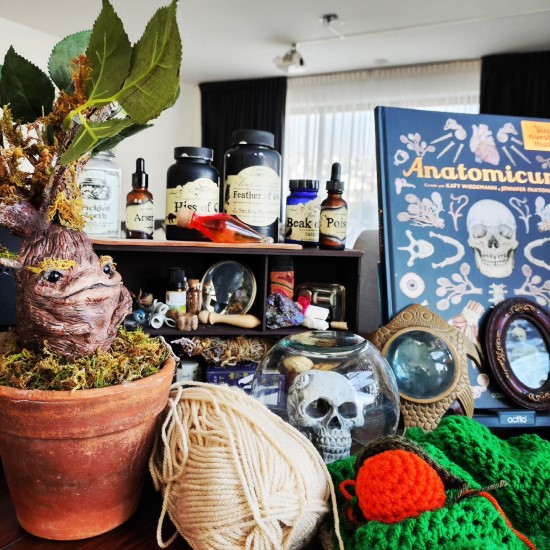 #TexasChainStitchMassacre Day 31: Samhain /ˈsaʊ.wən/, /ˈsaʊ.wɪn/
And finally, Goat's Witch Shop! Goat worked for weeks on these beautiful spooky odds and ends to delight her neighborhood kids. She even made that wildly awesome mandrake root baby. I was blown away by her creativity and fun. 
In the front right you see a sneak peak of the frog cap she made for the IT intern to wear for halloween.
And that is a wrap, folks! Will we do it again next year? Most definitely! It was such a delight to see everyone's enthusiasm and interpretations of the prompts. There's a chance we'll tweak the format to build in some rest time for our arms and minds. However, we have whole 11 months to forget just how exhausted we are right now, so who knows how ambitious we will be feeling by then! 
Drop us a line if you have any ideas for next year's themes! We'd love to hear what spooky stuff you want to see in crochet form.