Free Halloween(ie) Crochet Pattern
Halloween(ie) and #Hooktober | The black magic of being overly ambitious
We LOVE fall. As soon as spring comes around, we start counting down the days, and as soon as it gets here we feel the need to feast on all those things we've been missing for seasons. Maybe that is why October is all about biting off more than we can chew. From overindulging on candy, to lampoon-style home decor plans, to signing ourselves up for the seemingly infinite number of crochet-alongs, insta challenges, and other crafty Halloween themed shenanigans, we are here for it. On top of that, there is finally a little nip to the air and our energy is up after months of oppressive heat. So, we do what any perfectly sane, not-at-all-pathologically-over-self-confident crochet design duo would do. That's right, we create our own overly ambitious instagram challenge for the month of #HOOKTOBER: #TexasChainStitchMassacre.
If you haven't already encountered our challenge (or one of a hundred others like it) we provide a prompt for every day of the month and make a post each day responding to the prompt. Anyone who is interested can join in by using the hashtags #hooktober and #texaschainstitchmassacre. 
A lot of these kinds of challenges target illustrators (think #mabsdrawloween or the famous/infamous #inktober). Turns out, trying to recreate the concept with crochet is a TOOOOOOOON of work. We are fairly fast makers, but it takes real chops to respond daily with a well thought out and executed crochet item. (Unless you are one of those crocheters who focuses on paranormal, mythological, and other occult themes all year long. If you are, maybe this will be no problem for you!) 
And so, well, we haven't 😅 That is, we've responded every day so far, but not every post is a new and novel ami, and there is a pretty strong chance we will skip some days if our brains and arms poop out on us.
Yes, we started this Hooktober challenge to make it rain inspiration for ourselves and other crocheters, but it is f%#$ hard! It's barely 11 days in, and the two of us are already fighting in full Kardashian drama mode over how to stay creative. It turns out we are not performing monkeys. Even if all you really want is to entertain your audience and are willing to stake bloody fingers, carpal tunnel, and lack of inspiration, sometimes you just can't perform. 
And so, we wanted to leave you this note to make sure you understand that hooktober is supposed to mean freedom and fun. We are humans, not over producing robots. There is no pressure here to be a perfectionist about the challenge, even if some of the Freddy Goat design team has issues with that [Goat coughs under her breath while Freddy stares blankly into the middle distance and a single tear rolls down her cheek]. Respond to as many or as few of the prompts as interest you! And, pleeeease share your posts with us so we can see the silly, weird, and frightening results of your stitchcraft.
Without further ado, we present the pattern we wrote for Day one of this year's #hooktober challenge, Halloween(ie). Enjoy!

Before we get started, this is what you need to make your free Halloween – ie:
2mm crochet hook
Schachenmayr Catania or similar weight yarn in colors:

Color A: Weenie color (Terracotta 00388)
Color B:

Cape Color (Schwarz 00110)

Tapestry needle


Embroidery threat in black and white for face details

stuffing

Flexible craft wire
5-rnd gauge circle with 2mm hook  = 1.25″/3.2cm
If you work with a different gauge yarn, be sure to choose a hook size that is appropriate and doesn't allow stuffing to show through the stitches.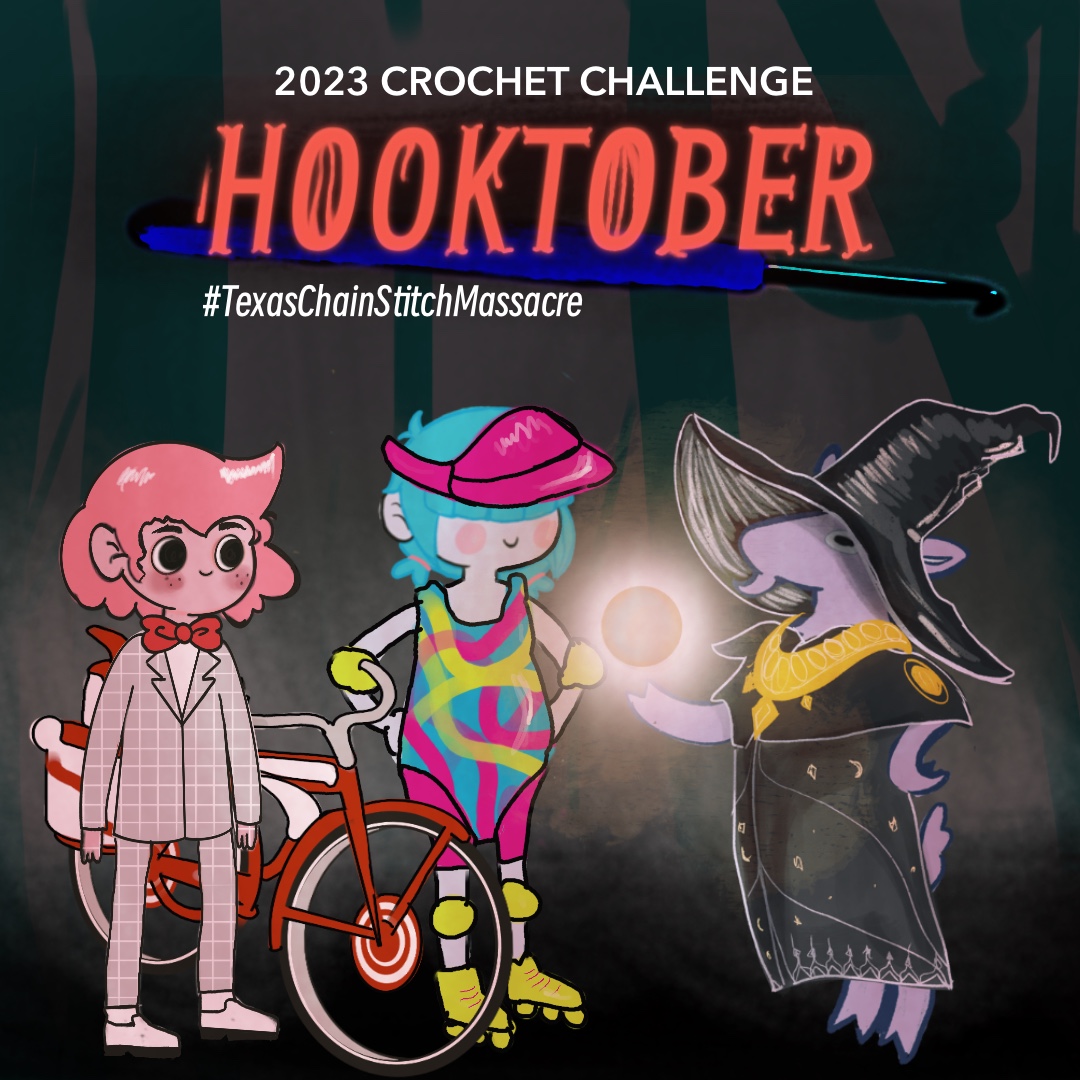 Magic Ring (MR)
Single crochet (sc)
Invisible dec (invdec)
Invisible join
Half Double Crochet (hdc)
Double Crochet (dc)
Treble Crochet (tr)
Chain (ch)
Work into the bumps on the back of the chain (work in BB)
Invisible Decrease (invdec)

Picot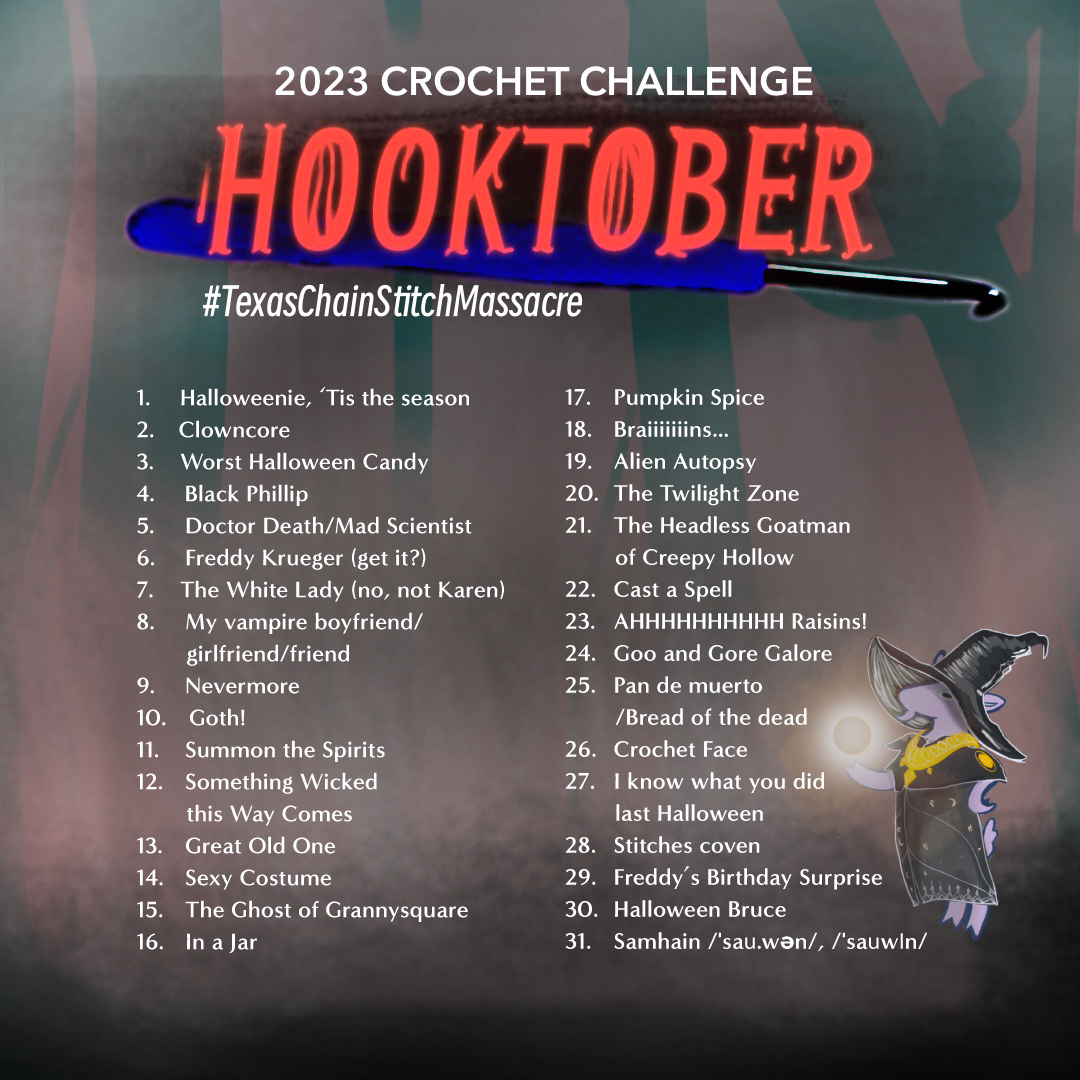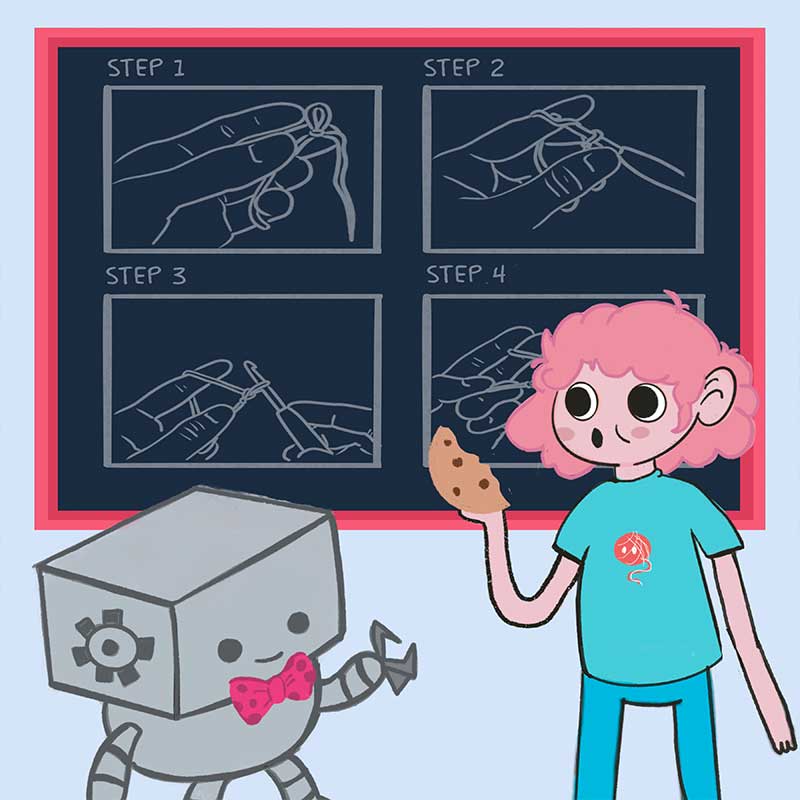 ©2023 Freddy Goat. FREDDY GOAT ALL RIGHTS RESERVED. No part of this free Halloween crochet pattern may be published, resold, reproduced (in any form or by and means, electronic or mechanical, by photocopying, recording or otherwise), shared, translated or altered without prior permission in writing from the author.
If you sell or exhibit items made using this pattern, credit Freddy Goat Patterns and Design as the original designer. Also, pleases give us a tag on social media so we can see your beautiful work.
Free Halloween(ie) Crochet Pattern
Wiener
Worked in the round in Color A

Stuff as you go..
Rnd 1: MR, sc 6.
Rnd 2: BLO, inc x 6. [12 sts]
Rnd 3: *Inc, sc* x 6. [18 sts]
Rnd 4: *Inc, sc 5* x 3. [21 sts]
Rnd 5–Rnd 15: Sc 21.
Rnd 16: Ch 7, sk 10, sc 11. [21 including 10 skipped sts]
Rnd 17: Sc 10 into skipped sts of Rnd 15, sc 11. [21 sts]
Rnd 18–Rnd 24: Sc 21.
Rnd 25: Ch 7, sk 10, sc 11. [21 including 10 skipped sts]
Rnd 26: Sc 10 into skipped sts of Rnd 15, sc 11. [21 sts]
Rnd 27–Rnd 36: Sc 21.
Rnd 37: *Invdec, sc 5* x 3. [18 sts]
Rnd 38: *Invdec, sc* x 6. [12 sts]
Rnd 39: Invdec x 6. [6 sts]
Rnd 40: FLO, inc x 6. [12 sts]
Rnd 41: *Inc, sc* x 6. [18 sts]
Sl st, break the yarn, invisible join, then weave in the tail.
To make the top weiner tail, join with an sc to the FLO of Rnd 2, then: 
Rnd 1: Inc x 6. [12 sts]
Rnd 2: *inc, sc* x 6. [18 sts]
Sl st, break the yarn, invisible join, then weave in the tail.
Vampire Cape
Worked in the rows in Color B.
Row 1: Ch 15, sc 14 in BB starting in the 2nd ch from the hook; ch 1, turn. [14 sts]
Row 2–Row 3: BLO, sc 13; ch 1, turn. [13 sts]
Row 4–Row 5: BLO, sc 12; ch 1, turn. [12 sts]
Row 6: BLO, sc 12; ch 2, turn. [13 sts including one ch]
Row 7: BLO, sc in 2nd ch from hook, then sc 12; ch 1, turn. [13 sts]
Row 8–Row 9: BLO, sc 11; ch 1, turn. [11 sts]
Row 10–Row 11: BLO, sc 10; ch 1, turn. [10 sts]
Row 12: BLO, sc 10; ch 2, turn. [11 sts including one ch]
Row 13: BLO, sc in 2nd ch from hook, then sc 10; ch 1 turn. [11 sts]
Rowl 14: Sc 2, hdc 2, dc 3, tr 2, dc. Fasten off and break the yarn.
Join the yarn to the first ch of Row 1 and repeat instructions for Rows 2-14 to complete the other side of the cape (it should be a mirror image of the first side). Do not break the yarn at the end of Row 14. Sc around the edge of the entire cape and make a picot at the peak of each scallop. Fasten off and weave in tails.
Assembly and Details
Use the black and white embroidery floss to make a silly face on your Hallowween(ie).
Cut a piece of craft wire about 6″/15cm in length. Carefully insert one end all the way through your weenie. Thread each end of the wire through the far corners of the cape. Use pliers to bend and twist little hands on each end of the wire.
Woohoo! Now you have your own Halloween(ie)
Thank you so much for making our freehalloween – ie  crochet pattern! We hope you love it and enjoyed the pattern. We would totally love to see the finished product. Please post a pic and tag us in your social when you have a chance. Also, drop a comment below or send us an email if you have any questions or feedback on the patterns.
Thanks a million!!!! Lots of love and silliness<3
Free Crochet Wax Lips Pattern and #Hooktober |The black magic of being overly ambitious | Part-2 | Remember our challenge to rain creativity down on you this month?!? That's right, we created our own, overly ambitious instagram challenge for the month of #HOOKTOBER:...
read more