Free Paleta Payaso Crochet Pattern
Although these lollipops aren't specifically associated with Halloween, we decided to gift you this free Paleta Payaso crochet pattern to celebrate the season because it unites two Halloween staples, candy and clowns. If you aren't already a Paleta Payaso lover, they are a Mexican delicacy—marshmallow, dipped in chocolate, and garnished with a gummy candy clown face. The interenet is obsessed with just how funny and expressive the face and be, and we encourage you to go wild! Please tag us if you post your paleta. We want to see what face you make!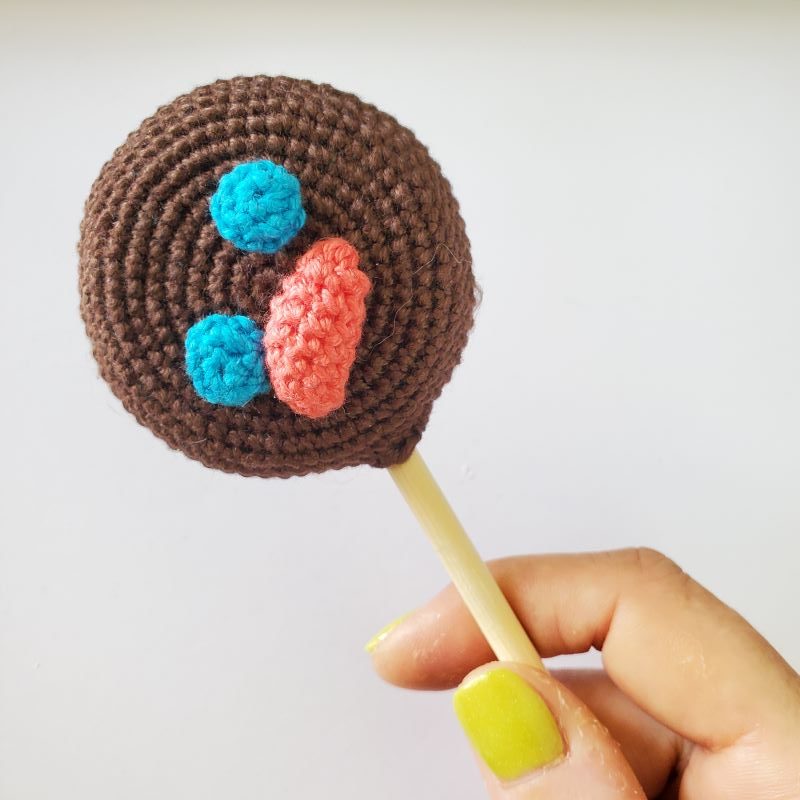 Before we get started, this is what you need to make your free Paleta Payaso:
2mm crochet hook
Schachenmayr Catania (50g/125m, sport-5 ply) or similar weight yarn in colors:

Color A: Kaffee (00162)
Color B: Pfau (00146)

Color C: Kamelie (00252)

Tapestry needle


2 Carboard circles, about 2''/5cm in diameter

stuffing

A rigid straw or a cake pop stick (we used the cake pop stick)
5-rnd gauge circle with 2mm hook  = 1.25″/3.2cm
If you work with a different gauge yarn, be sure to choose a hook size that is appropriate and doesn't allow stuffing to show through the stitches.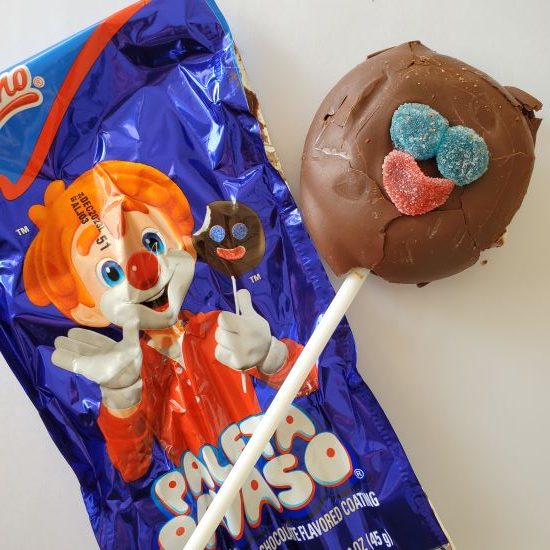 What the actual Paleta Payaso candy looks like. Yum!😂😂😂
Magic ring (MR)
Slip Stitch (sl st)
Single crochet (sc)
Increase (inc)
Invisible dec (invdec)
Invisible join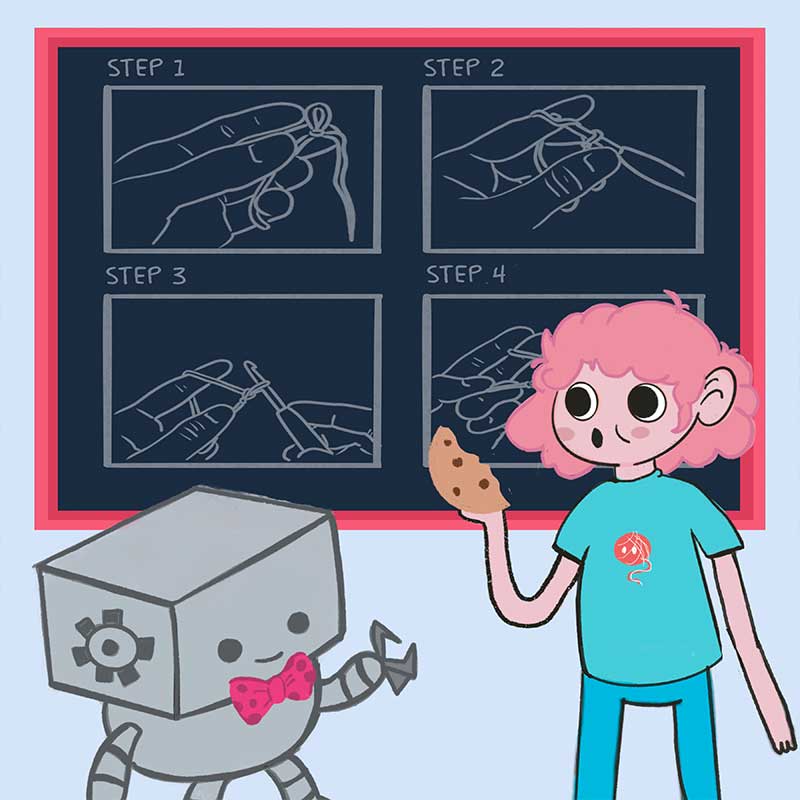 ©2023 Freddy Goat. FREDDY GOAT ALL RIGHTS RESERVED. No part of this free Halloween crochet pattern may be published, resold, reproduced (in any form or by and means, electronic or mechanical, by photocopying, recording or otherwise), shared, translated or altered without prior permission in writing from the author.
If you sell or exhibit items made using this pattern, credit Freddy Goat Patterns and Design as the original designer. Also, pleases give us a tag on social media so we can see your beautiful work.
Free PALETA PAYASO Pattern
Front and Back of the paleta
Worked in the round in Color A

Make 2 (one for front and one for back).
Rnd 1: MR, sc 7.
Rnd 2: Inc x 7. [14 sts]
Rnd 3: *Inc, sc* x 7. [21 sts]
Rnd 4: *Sc, inc, sc* x 7. [28 sts]
Rnd 5: *Sc 3, inc* x 7. [35 sts]
Rnd 6: *Sc 2, inc, sc 2* x 7. [42 sts]
Rnd 7: *Inc, sc 5* x 7. [49 sts]
Rnd 8: *Sc 3, inc, sc 3* x 7. [56 sts]
Rnd 9: *Sc 7, inc* x 7. [63 sts]
Rnd 10: Sc 63.
Rnd 11: *Sc 19, invdec* x 3. [60 sts]
Break yarn and invisible join. On the Front, leave a very long tail for sewing. Weave in the tail on the Back.
***This part of the pattern increases 7 times each round to make the shape extra flat at the beginning. If you are curious about why, check out our blog post all about crocheting circles!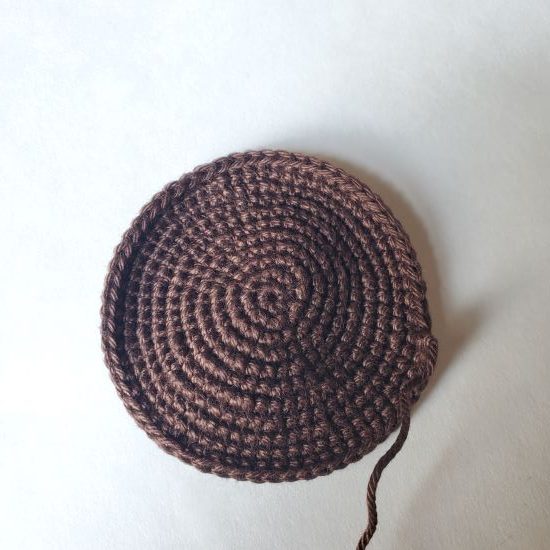 Gomitas (Gummy candies)
Eyes
Worked in the round in Color B.

Make 2 (or as many as you want!)
Rnd 1: MR, sc 6.
Rnd 2: *Inc, sc*x 3. [9 sts]
Rnd 3: Sc 9.
Don't stuff. Break the yarn, thread the tail through the front loops of the remaining sts, and pull the tail to draw closed.
Mouth
Worked in the round in Color C.
Rnd 1: MR, sc 6.
Rnd 2: Inc, sc 5. [7 sts]
Rnd 3: Inc, sc 6. [8 sts]
Rnd 4–5: Sc 8.
Rnd 6: invdec, sc 6. [7 sts]
Stuff lightly. Break the yarn, thread the tail through the front loops of the remaining sts, and pull the tail to draw closed.
Assembly
Orient the long tail on the Front so that it is at the bottom of the circle. The tail should be at the center bottom of the face. Sew the Gomitas to the front of your Paleta Payaso with that in mind.
Sandwich the two cardboard circles between the Front and Back and use the yarn tail at the bottom of the face to begin whip stitching around the edge. After working about ⅔ of the way around, pause to add stuffing between the cardboard circles. Continue whip stitching around and stuffing until you have only 2-3 sts left unworked. Fasten off and weave in your ends. The hole that remains should be just large enough to fit the lollipop stick in.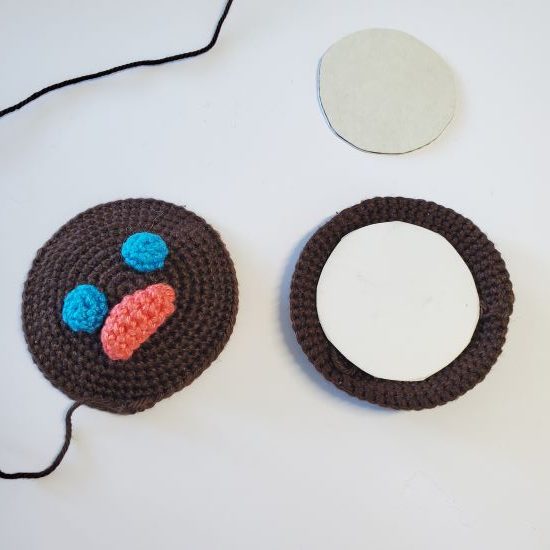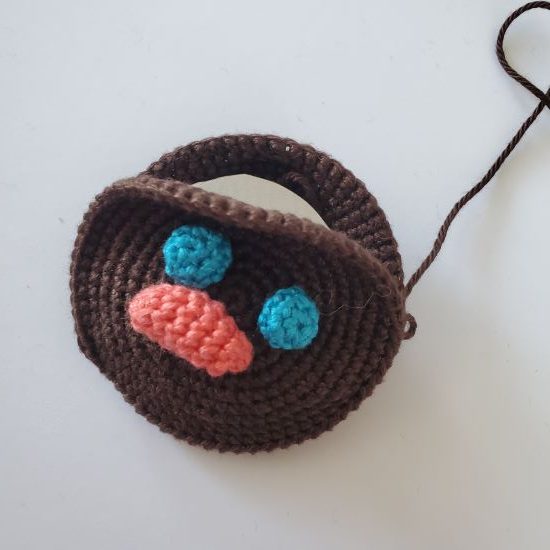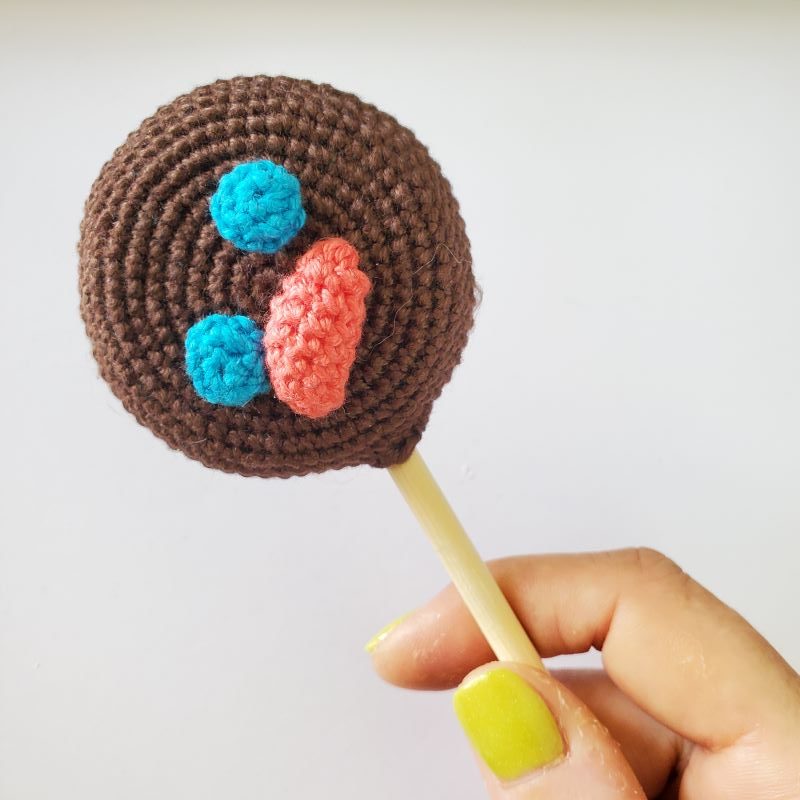 Thank you so much for making our free Paleta Payaso crochet pattern! We hope you love it and enjoyed the pattern. We would totally love to see the finished product. Please post a pic and tag us in your social when you have a chance. Also, drop a comment below or send us an email if you have any questions or feedback on the patterns.
Thanks a million!!!! Lots of love and silliness<3
Free Crochet Wax Lips Pattern and #Hooktober |The black magic of being overly ambitious | Part-2 | Remember our challenge to rain creativity down on you this month?!? That's right, we created our own, overly ambitious instagram challenge for the month of #HOOKTOBER:...
read more