Little Alien Amigurumi Free Pattern
Are Aliens Halloween-y?
While making this little alien amigurumi, here at Freddy Goat, we got into a long running dispute — are aliens Halloween-y??? This all arose when Goat tried to market our free alien pattern as a Halloween give-away.
The dispute goes something like this:
Goat: They are totally Halloween-y. They are scary.

Freddy: I don't think they're scary. Plus, roaches are scary. Are they Halloween-y?

Goat: People dress up as aliens for Halloween.

Freddy: You can dress up as a doctor for Halloween. That doesn't make doctors canonically Halloween-y.
As you see, we just go round and round, so we'll leave it up to you to decide. If you have strong feelings about it, drop us a comment.
Whether you're making Lil Alien for Halloween or not, we hope you enjoy the pattern!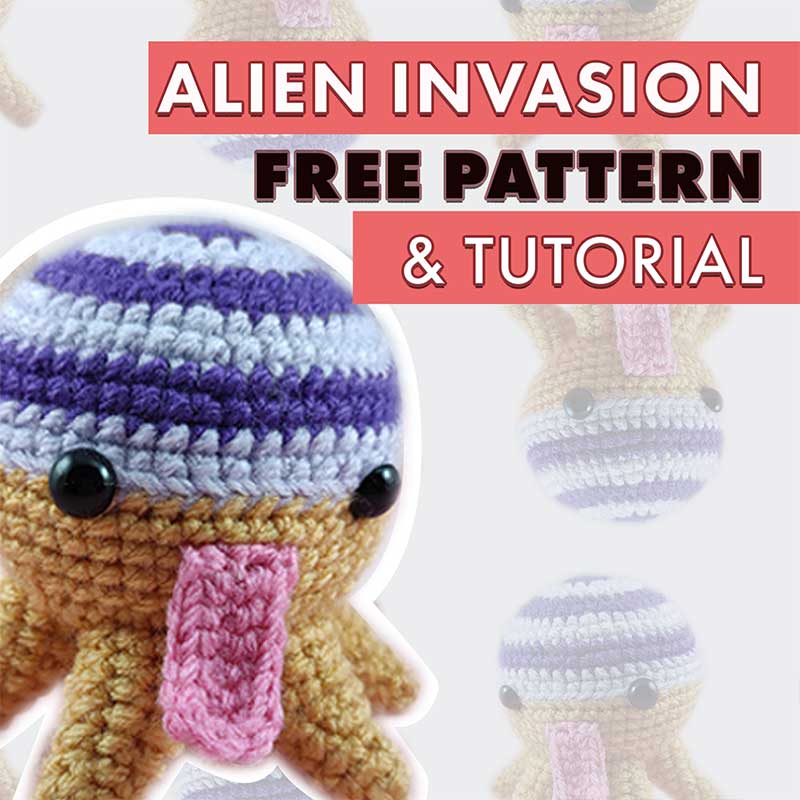 Before we get started, this is what you need:
2.75mm(US C-2) crochet hook

Aran or worsted weight yarn:
• Color A (lower body and legs)
• Color B (head stripes and suckers)
• Color C (headstripes)
• Color D (tongue)

Tapestry needle

Stuffing

Snap eyes
5-rnd gauge circle = 1.75"/4.5cm Gauge isn't terribly important in amigurumi, so it is okay to use a slightly larger hook if that is all you have. However, you don't want to see stuffing through the stitches, so don't get too big.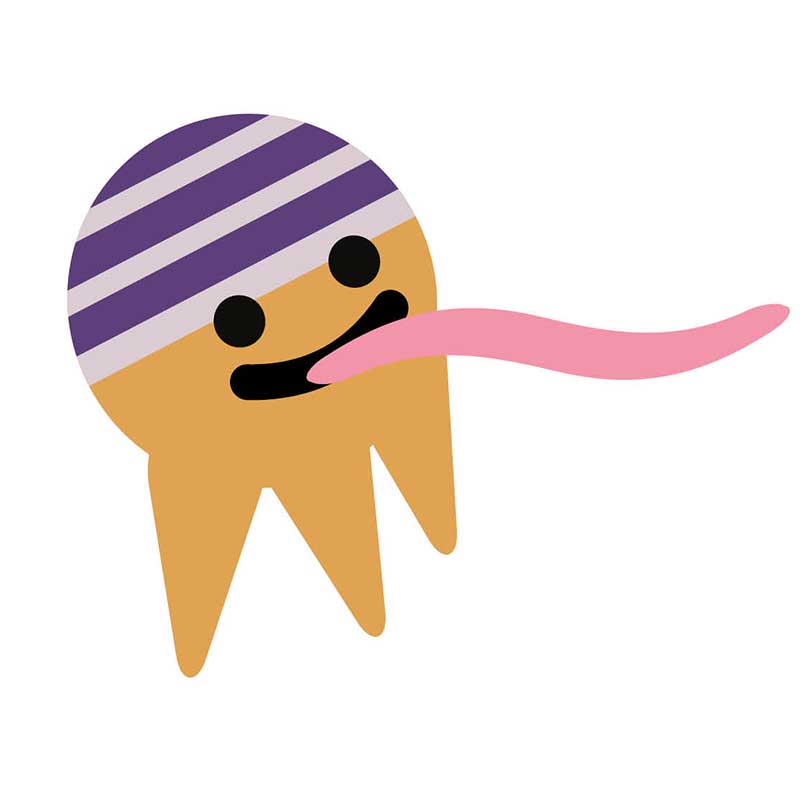 Magic ring (MR)
Single crochet (sc)
Increase (inc)
Invisible decrease (invdec)
Change color 
Invisible join 
Work in BLO 
Draw closed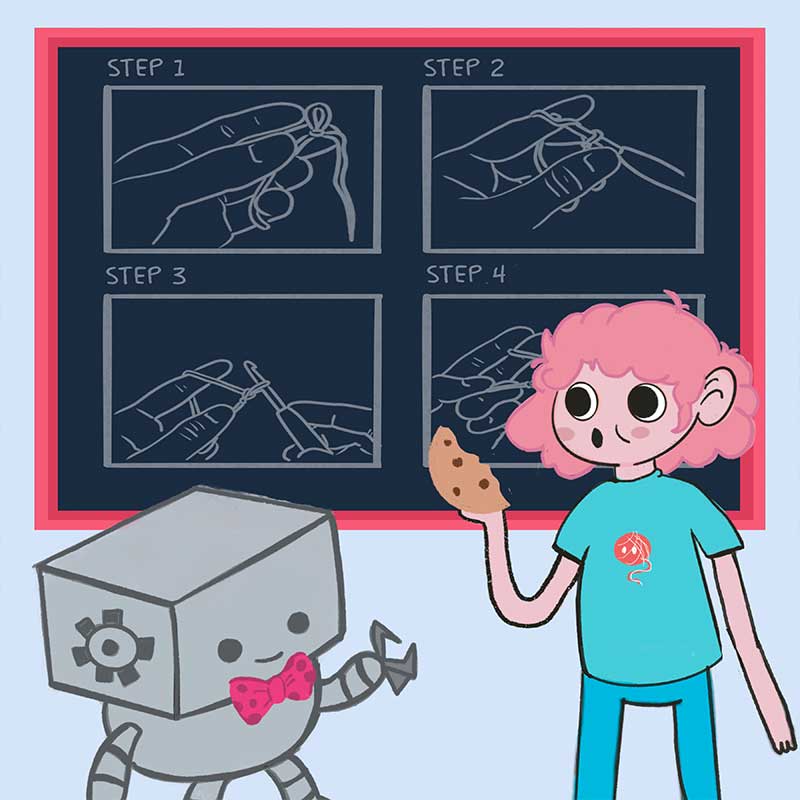 ©2021 Freddy Goat. FREDDY GOAT ALL RIGHTS RESERVED. No part of this alien amigurumi pattern may be published, resold, reproduced (in any form or by and means, electronic or mechanical, by photocopying, recording or otherwise), shared, translated or altered without prior permission in writing from the author.
If you sell or exhibit items made using this pattern, credit Freddy Goat Patterns and Design as the original designer. Also, pleases give us a tag on social media so we can see your beautiful work.
Little Alien Amigurumi Instruction:
LEGS
• Worked in the round in Color A. (Make 6 legs)
Rnd 1: MR, sc 4. [4 sts]
Rnd 2: Inc, sc 3. [5 sts]
Rnd 3: Sc 2, inc, sc 2. [6 sts]
Rnd 4: Sc 5, inc. [7 sts]
Rnd 5: Sc 3, inc, sc 3. [8 sts]
Rnd 6: Sc 7, inc. [9 sts]
Rnd 7: Sc 4, inc, sc 4. [10 sts]
Rnd 8: Inc, sc 9. [11 sts]
Rnd 9: Sc 5, inc, sc 5. [12 sts]
Sl st, then break the yarn, invisible join and weave in tails. You can stuff the legs if you want them to look plumper or leave them unstuffed. Use Color B to embroider suckers onto the legs. Set the legs to the side.
HEAD
• Worked in the round.
• Begin in Color B and switch between colors B and C every 2 rounds until Rnd 13. 
• In Rnd 19, you will attach the legs by working through 6 sts of each leg and the sts of Rnd 1 of the head simultaneously.
Rnd 1: Color B; MR, sc 6. [6 sts]
Rnd 2: Inc x 6. [12 sts]
Rnd 3: Color C; *inc, sc* x 6. [18 sts]
Rnd 4: *Sc, inc, sc* x 6. [24 sts]
Rnd 5: Color B; *sc 3, inc* x 6. [30sts]
Rnd 6: *Sc 2, inc, sc 2* x 6. [36 sts]
Rnd 7: Color C; *inc, sc 5* x 6. [42 sts]
Rnd 8: *Sc 13, inc* x 3. [45 sts]
Rnd 9: Color B; sc 7, inc, sc 7* x 3. [48 sts]
Rnd 10: Sc 48.
Rnd 11: Color C; sc 48
Rnd 12: Sc 48.
Rnd 13: Color A and BLO, sc 48.
Rnd 14 – Rnd 15: Sc 48.
Rnd 16: *Sc 7, invdec, sc 7* x 3. [45 sts]
Rnd 17: *Sc 13, invdec* x 3. [42 sts] Put snap eyes between Rnds 12 and 13 about 10 sts apart.
Rnd 18: *invdec, sc5* x 6. [36 sts]
Rnd 19: Working through the leg from the inside, Sc 6 through 6 sts of a leg and the next 6 sts of the body, repeat for each leg.
Rnd 20: Working only in the exposed sts of the legs, Invdec x 18.
[18 sts] Begin stuffing the body.
Rnd 21: Invdec x 9. [9 sts] Break the yarn, thread through the front loops of the remaining 9 sts and draw the hole closed, adding
a little more stuffing as needed.
TONGUE
• Worked in the rows in Color D.
Row 1: Chain 7; turn and sc 6 into the back bumps of the chain starting with the second chain from the hook; turn, ch 1 [12 sts along both sides of foundation ch but skipping turning ch]
Row 2: Sc 5, 3 sc in next, sk turning ch, inc in next, sc 5. Break the yarn and use the tails to sew the tongue to the face between and a few rounds below the eyes.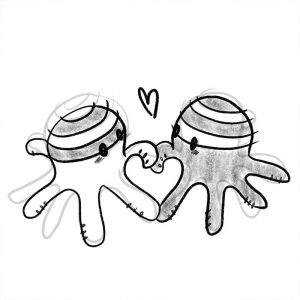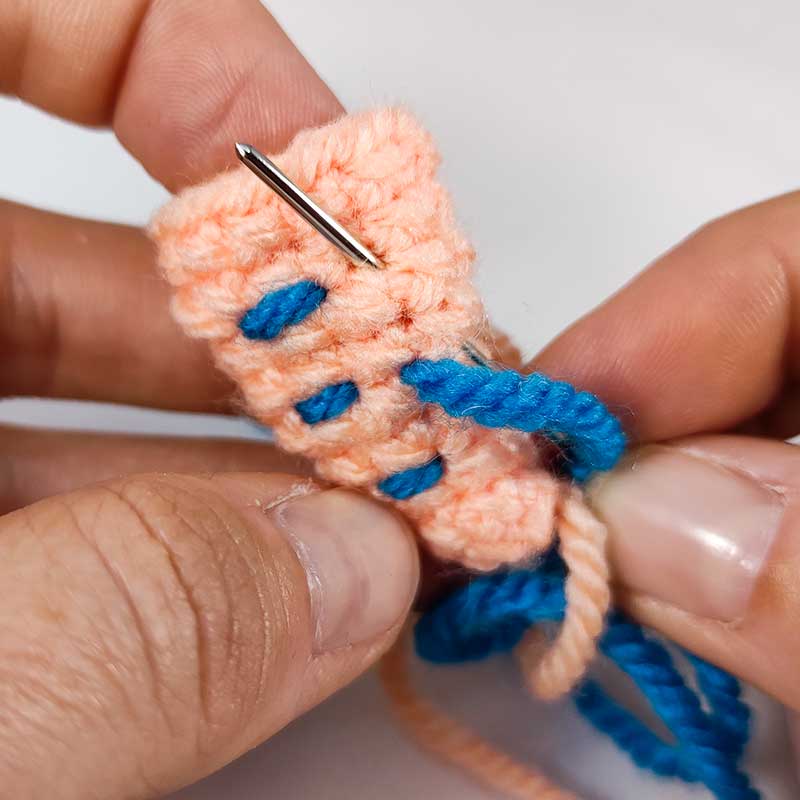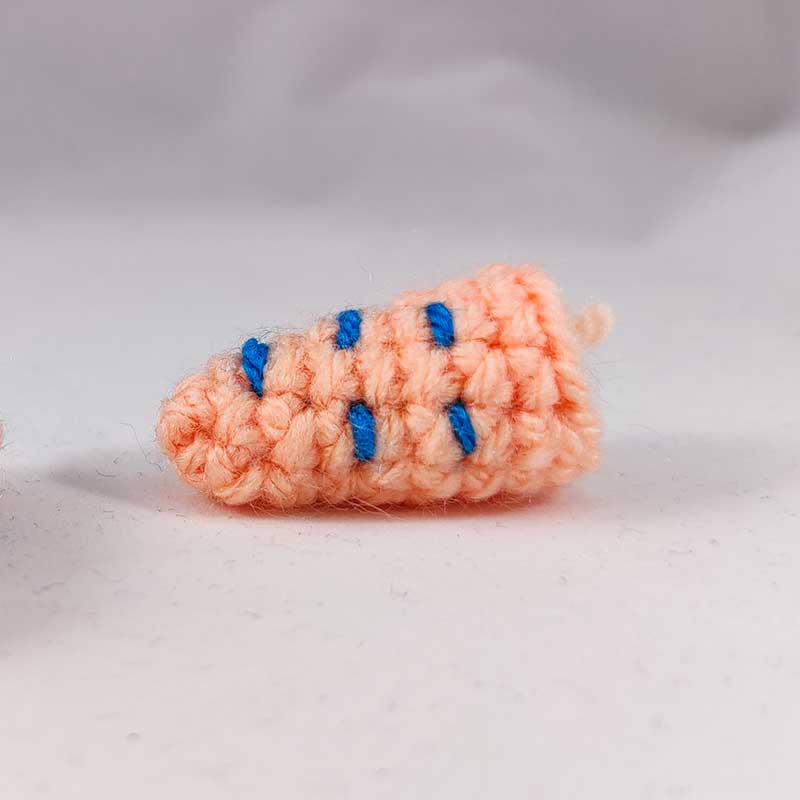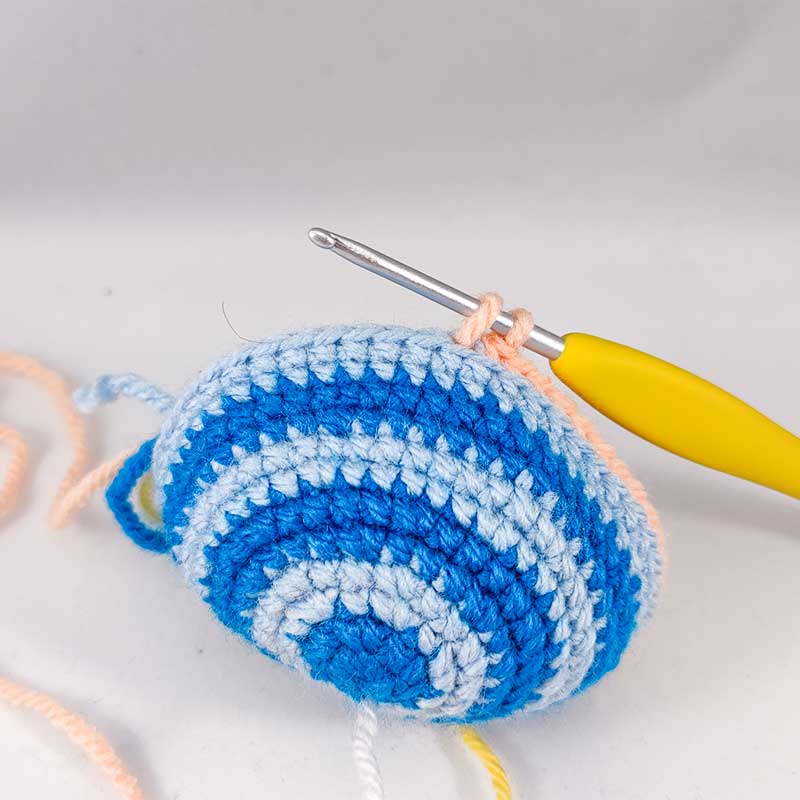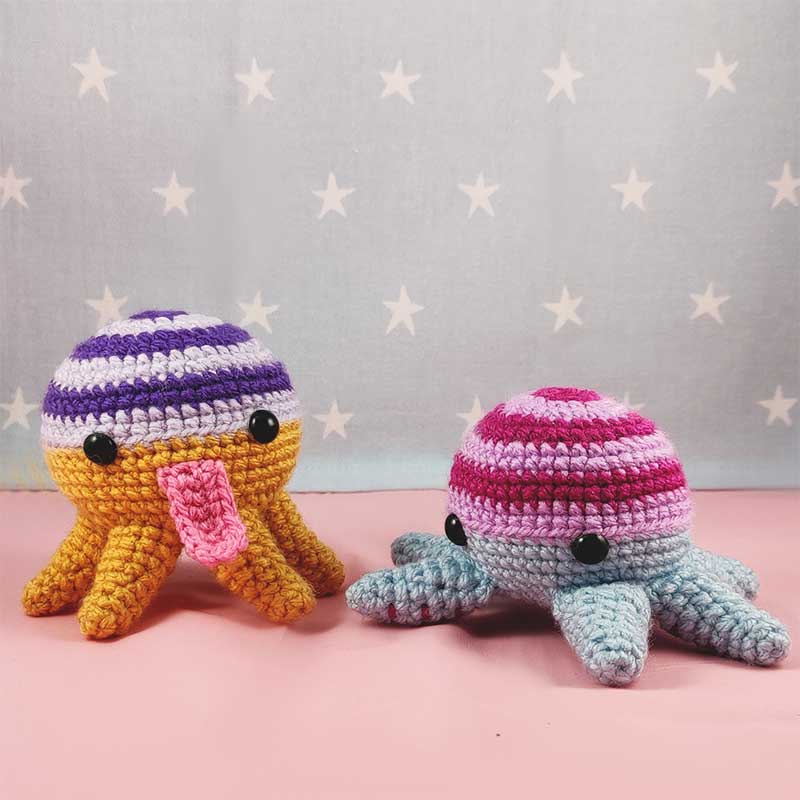 Thank you so much for making this little alien amigurumi pattern! We hope you love your ami and enjoyed the pattern. We would totally love to see the finished product. Please post a pic and tag us in your social when you have a chance. Also, drop a comment below or send us an email if you have any questions or feedback on the patterns.
P.S. No little alien amigurumi were harmed and/or sent to Area 51 in the making of this pattern.
Thanks a million!!!! Lots of love and silliness<3
Free Halloween crochet pattern Yes! a free halloween crochet pattern for you. This spooky season you will become the fairest of them all, or not; instead you will have the coolest and coziest mani. You may be cold from wearing a sexy halloween outfit, but no frostbite...
read more